About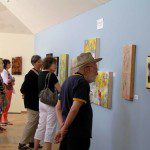 THE VISION                                                                                               
The Encaustic Art Institute is committed to becoming the premier encaustic art center in the nation.
To become established as a national center for Encaustic Art, by collaborating with other encaustic organizations. Together we can accomplish greater visibility, and promote expanded awareness of the encaustic medium to the public.
To include any persons that are interested in encaustic art — art historians, curators, scholars, collectors, art publishers and other visual arts professionals — to become a part of EAI. The more freedom of expression and diversity we have, the more we will grow and become successful.