MAGAZINE INFO PAGE
Click HERE for detailed written information about reading, subscribing and re-accessing Encaustic Arts Magazine or follow the diagrams below.
The magazine is offered at $2.99/cover price for single issues or a package subscription for the two issues per year we publish is $5.99. The PREVIEW link to subscribe to the current issue or access your account as a previous subscriber will be posted on our website as each new issue becomes available. Please note: The subscription cycle begins with the current issue and is valid only from the current issue. If you begin your subscription with a Winter issue it will include the Spring issue for that year. If you're beginning your yearly subscription with a Spring issue it will include the Winter issue for the following December. If you wish to read an issue that is not the current issue, and are a new subscriber, you should  purchase that issue as a single issue.
You'll find links to read back issues of the magazine HERE.
A new feature we are offering our readers is the option to purchase hard copies of the current issue and select back issues of the magazine. You'll find details and information on how to do that HERE.
INSTRUCTIONS TO SUBSCRIBE (as a new subscriber) Or to Purchase a Single Issue of the magazine: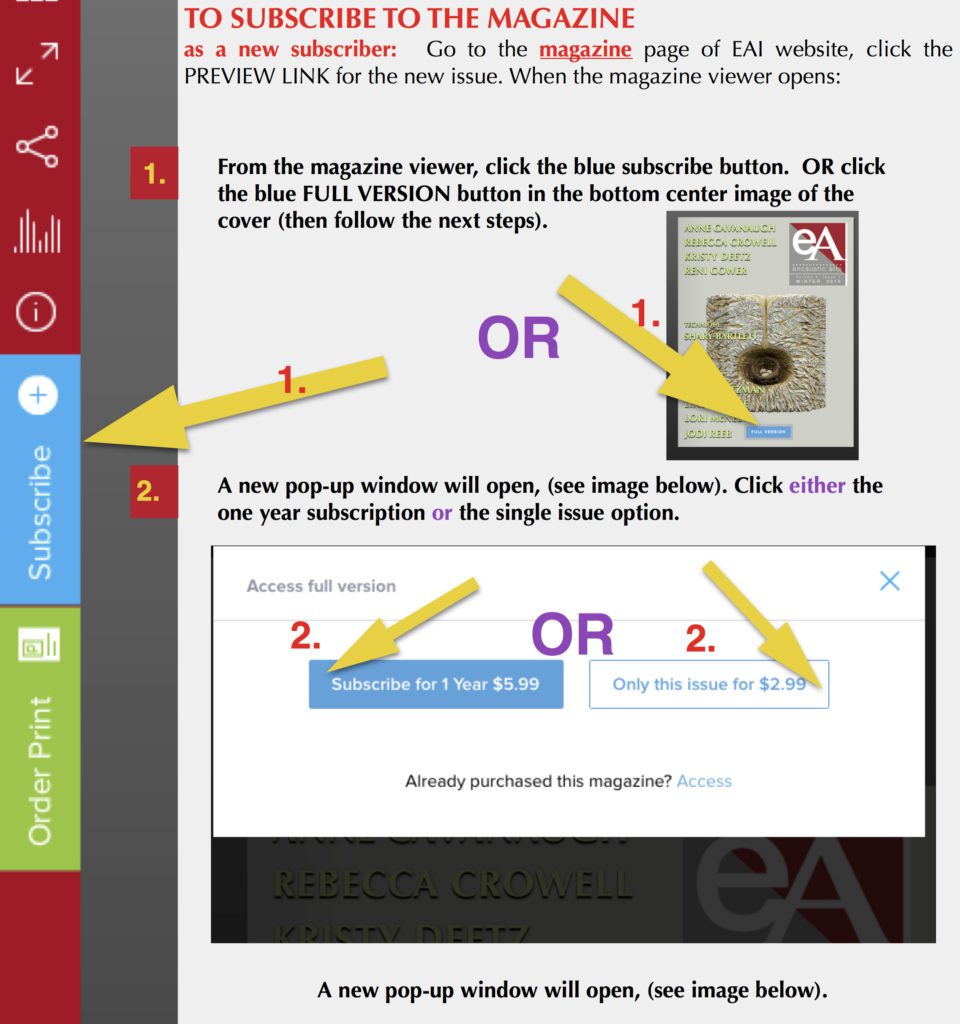 INSTRUCTIONS TO RE-ACCESS the magazine or to read a new issue in your subscription:
If any of the pop-up windows do not open as you are subscribing or re-accessing an issue, (for example if you click the FULL VERSION button and nothing happens), you may need to whitelist the website with your anti-virus software or enable pop-ups so that the windows/pop-ups shown in these instructions will be functional .
When you open the magazine, please allow a few minutes for the content to load. The content is image heavy and depending upon your internet connection speed it may take a few minutes to load the pages and images. You'll see a small red status bar in the center of the page as the content loads. There are very few blank pages in the magazine — usually located at the beginning of each artist's article and at the end of their article before their Bio page. If you're seeing blank pages other than that, it may just be loading. The magazine seems to work best in Google Chrome and Safari browsers, but does work in other browsers. You may need an updated Flash player. If you're new to reading digital magazines, pages 6-7 of the magazine will have some tips on how to use the tools and ways to navigate as well as an explanation of hyperlinks
See below for explanation of the Navigation icons you'll see when you open the magazine viewer to read the issue.